---

Click to Enlarge

Stuffed Baked Mackerel
Euro/American

---

Serves
Effort:
Sched:
DoAhead:
2 main
***
1 hr
Some
You can serve this tasty mackerel as an appetizer, as a side, or as a main dish with rice. Give the first section behind the head to an experienced fish eater because it'll have the root bones of the fins in it. Mackerel is very perishable so don't keep it long in the fridge before cooking. It's loaded with Omega 3, but it's a little oily - a fish for people who like fish.
---






1
------
2
2-1/2
1/2
3
1/2
1/2
1/4
1/3
1/4
------
#
---
oz
T
T
T
t
T
t
c
t
---
Mackerel, whole (1)
-- Stuffing
Onion
Butter
Oatmeal (2)
Breadcrumbs, wheat (3)
Thyme dry
Parsley, flatleaf
Pepper
Water
Salt
-- Serve with
Lemon Wedges

Prepare WHOLE MACKEREL ready for stuffing. Method for cleaning can be found on our page Cleaning and Filleting Fish. The final method to prepare for stuffing will be found below in Method to Prepare, Stuff & Bake.
Preheat Oven to 375°F/190°C.
Chop ONIONS small.
Chop PARSLEY small and mix with Oatmeal, Breadcrumbs Pepper, Thyme and Salt.
Heat Butter and gently fry Onions until they are translucent but not browning. Stir in Breadcrumb mix and Water. Cover and simmer, stirring often and checking water until oatmeal is cooked. For steel cut oats this could be a 1/2 hour or so. Finish with the liquid evaporated to the point the oil starts to separate.
Stuff MACKEREL and wrap in foil per Method below.
Bake at 375°F/190°C for 1/2 hour.
Serve. Since the backbone is out you can slice the stuffed part of the fish to the size you wish. Make sure each slice gets some stuffing and serve with Lemon Wedges for squeezing.
NOTES:
Method to Prepare, Stuff & Bake
Clean the fish per method for round bodied fish on our page Cleaning and Filleting Fish, then with your kitchen shears cut the fin off the top.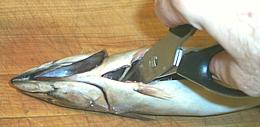 With your kitchen shears cut the backbone as far forward in the cavity as you can, then do the same as far back as possible and once in the middle. Be careful not to go through the top of the fish. Actually, you can make a cut on both sides of the anal fin and go a bit farther back than the end of the body cavity.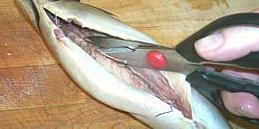 Mackerel is quite tender so cut the ribs off both sides of the backbone. If you rip the backbone out ribs and all like you can on some fish you may tear up the flesh too much.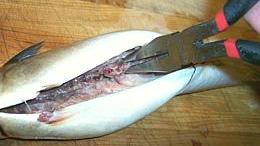 Pull out the spine with a strong pair of pliers. You will probably want to use your fingers on both sides to keep it from pulling out any flesh.


The spine should come out with very little flesh attached.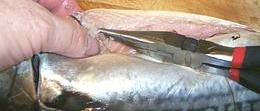 Now go in and feel around with your fingers to find all the bones and pull them out (lengthwise towards the center wherever possible) while holding the flesh back with your fingers so it doesn't tear. In particular, check for small bones up at the head end.


Your fish is now ready to stuff.


Brush an ample sheet of aluminum foil with olive oil. Brush the fish with olive oil as well. Put in as much of the stuffing as it will comfortably hold.


Wrap the foil to seal as well as possible at top and both ends. Put in a preheated oven and bake at 375°F/190°C for 1/2 hour.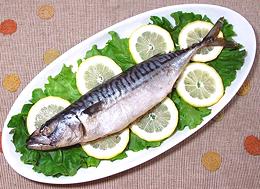 Serve in whatever manner you wish but accompany with plenty of lemon wedges for squeezing on the fish or with some Lemon Butter Sauce (but don't drown it, just a little will do).


smf_mackstuff1 060604 gfsc172 - www.clovegarden.com
©Andrew Grygus - agryg@aaxnet.com - Linking to and non-commercial use of this page is permitted.
---