8
1/2
1/2
1-1/2
3
6
1
3
2
5
2
2
1/2
1/2
tt
#
t
t
t
cl

#
c
T
oz
oz
T
t
c

Pork Shoulder
Salt
Peppercorns cracked
Thyme dried
Garlic
Bay Leaf (1)
Onions
Marsala or (2)
Butter
Mushrooms (3)
Shallots
Parsley flat
Cornstarch
Cream, heavy
Salt & Pepper
-----------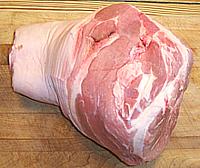 Roast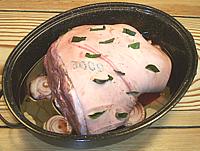 Ready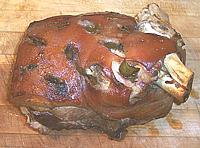 Done
Prep - (35 min)
Preheat Oven to 325°F/165°C.
Crush Peppercorns, Salt and Thyme together into powder.
Cut the BAY LEAVES in half crosswise (Note-1) and slice each GARLIC CLOVE in thirds lengthwise.
Peel ONIONS and cut into slices about 1/4" thick.
Rinse and dry PORK SHOULDER. Make 12 evenly spaced slits through the skin into the meat about 1-1/2" deep by 1-1/4" wide. Stuff some of the Thyme Mix into each slit until it is all used up. Insert a Bay Leaf half into each slit, and then a slice of Garlic.
Run - (5 to 7 hrs, depending on size)
Cover the pan and slide it into the oven. Let it roast, 4 to 5 hours for an 8# shoulder, depending if you want it sliceable or pullable, 5 to 6 hours for a 10# shoulder. Internal temperature should reach at least 165°F/75°C, but these times should certainly get you there.
Meanwhile: Slice MUSHROOMS crosswise in half if large, then the other way fairly thin.
Chop SHALLOTS fine. Chop PARSLEY medium. Mix,
Heat BUTTER and fry Mushrooms gently until they show a touch of browning, then add Shallot mix and fry stirring for another 5 minutes. Set aside until the roast is done.
When roast is done: remove from oven and, if the roast is skin-on turn up the oven to 425°F/220°C (see below).
Remove roast from pan. Best way is to put on a pair of best quality heavy rubber dishwashing gloves (size extra large). That'll give you time to just reach in, grasp the roast and hoist it out onto your cutting board.
pull Bay Leaves. Cut through the skin at the narrowest part and peel it away in as close to a single sheet as you can manage. Remove excess fat from the roast and cover it with foil to rest for at least 20 minutes.
Scrape excess fat from the skin, put the skin fat side down on a sheet of foil. Roll the edges of the foil to contain released fat. Slide the sheet into the oven and roast at 425°F until a bit crispy but still flexible.
While the skin is roasting, pour the liquid from the roasting pan through a strainer into a pan. Squeeze as much liquid out of the onions as you can and discard the onions. Skim the fat or, better, use a gravy separator to remove it.
Add defatted roasting liquid to the Mushroom mix and bring to a simmer. This is already an intense sauce so rather than boil it down I prefer to thicken it just a little. Mix the cornstarch with a little water and stir in. Simmer until thickened but you don't want it thickened much.
Add the Cream and bring to a simmer. Check for salt, it may not need any, and season to taste with salt and pepper. Keep warm.
Cut the crispy skin into 1/2" wide strips. Slice the pork roast and serve with some sauce and a slice of the skin, with rice or potatoes on the side.