There are many brands and sizes of salad spinner other than the two shown here, but these are the market leaders. I have no experience with any of the others and their listings on Amazon show too few reviews to be statistically reliable.
Oxo Salad Spinner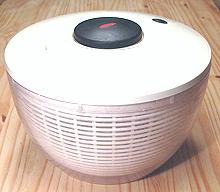 Far and away the market leader in salad spinners, the Oxo features a plunger action which can be operated with one hand. Both the bowl and basket can be used separately from each other and the lid.. Mine, in the photo, is an older model but very similar to the one sold under Oxo's Softworks brand. Oxo's Good Grips brand spinner has a transparent lid. There is also a "Small Salad and Herb" model in both the Softworks and Good Grips lines - cute, but I see no need for it. You can dry one sprig of parsley in the big one if you feel the need.
Clearly this is the spinner to beat - and nobody's beating it. On Amazon this spinner has 445 reviews with a 4-1/2 star rating (out of 5). I have used mine for years and have never been less than fully satisfied with its performance. Good Grips Large 32480CL, Small 1045409CL, Softworks Large 1045421, Small 1045409CL.

Zyliss Salad Spinner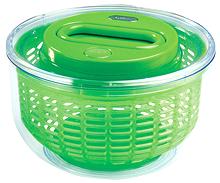 The few people who don't like the Oxo seem to love the Zyliss. This spinner features a pull cord action which takes both hands to operate.
On Amazon this spinner has 47 reviews with a rating a shade below 4 stars (combining the green and white models). The models on Amazon are, for the 4-6 serving size, 15721 (green), 15103 (white) and for the 2-3 serving size 15612 (green), but these are different from the model numbers on Zyliss' Web site. Photo © Source.