History & General Information
Most of our well known spices are grown in tropical coastal regions of India, Southeast Asia and Indonesia. From ancient times they have been a major article of trade to Europe and the Mediterranean and were until recently horrifyingly expensive due to monopoly control.
The spice trade was a major factor in European development of the highly sophisticated sailing ship technology that made world conquest and the colonial era possible - and which, incidentally broke the monopolies that had controlled trade resulting in lower prices. Today, all except labor intensive saffron are quite affordable.
Many authors state that in Medieval Europe spices were used with a heavy hand and to hide the taint of spoiled meat. Both statements are probably false. Given the very detailed instructions to staff on daily shopping that have come down to us, it is clear those who could afford spices were not eating spoiled meat - and those who had to eat spoiled meat could not afford spices that cost more than the meat. Medieval cookbooks call for many spices. Unfortunately, none give quantities, but given the expense, and the professionalism and sophistication of the cooks of that day, they were probably used with subtlety, not a heavy hand.
Working with Spices
Buying & Storing Spices
The most important factor in successful spice usage is freshness. Flavor depends on oils which will evaporate and/or turn rancid in time. This process is accelerated by many times when the spice is ground.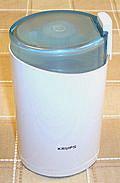 The best place to buy spices is from an ethnic grocer or importer who services a large community that uses those spices. Supermarket spices may have been years getting to you. Comparing ground turmeric from your local supermarket with that from an Indian grocer is a revelation.
Since ground spices degrade so rapidly it is better to buy them whole and grind as needed.A small whirling blade coffee grinder does a remarkable job of grinding spices in just seconds. Gun it a few times, then turn it upside down and whack it with the palm of your hand to shake the spice into the lid.
Store spices, whole or ground, in tightly sealed containers in a cool dark place. Direct sunlight is very destructive to spices. Buy in quantities that will be used up in about a year for whole spices, 6 months or less for ground.
Black pepper declines very rapidly after grinding but is used so frequently I don't want to grind it every time. I grind a couple teaspoons every week and keep it in one of those ultra-tiny "must be good for something" gift basket jam jars to be spooned out as needed.
Roasting Spices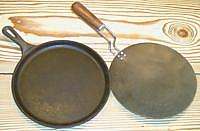 Particularly in India and Southeast Asia spices are prepared for grinding into spice mixtures by dry roasting. The Indian tava (also used for making flat bread) is the traditional pan for this. It is slightly concave and works great on a clay stove or over a bucket of charcoal, but it doesn't work on our gas burners or electric elements. The absolutely perfect pan to use is the Lodge L90G3 10" round griddle. Both items are shown in the photo, though our wood handled tava is a bit "upscale" compared to what you'd find in an average Indian household.
When roasting spices, do them one at a time because their timing is so different. Heat them stirring frequently until they start releasing their characteristic fragrance and start to darken just a touch, then pour out into a bowl to cool. I always start with cumin since it is so distinctive it'll let me know when the pan is hot enough for the others. I also do this step before handling dried chilis or I may not be able to smell anything.

Varieties
Every time our government is thrown out of a country it invaded or has been meddling in, all the collaborators move to Los Angles and open restaurants. Naturally they send home for ingredients as soon as they can and specialty grocers are soon opened. The happy result is that nearly every spice used in the world is available here.
---
Achiote / Annatto - [Bijol; Bija (Caribbean); recado rojo (Mexico); Atsuete (Philippines) pimentão doce (Spanish); Bixa orellana]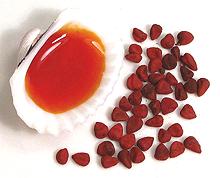 Seeds of he Achiote shrub, probably native to Brazil, have a pleasant but subtle aroma and flavor, but it is for their color they are most widely used. Aside from ethnic cuisines, the intense red-orange pigment, annatto (E160b), is used to color cheddar cheese, margarine, smoked fish, custard powder and other foods. It includes two pigments, one oil soluble which is more red, and one water soluble which is more yellow. The photo shows seeds (about 0.2 inch long) and oil extracted color.
The seeds are used in cooking in the Philippines, Mexico, Central America, the Caribbean and northeastern parts of South America. Seeds, Leaves and other parts are used medicinally for a number of conditions. Sap from the (inedible) fruits is used to treat type 2 diabetes and fungal infections. The red pigment has long been used by tropical American Indians as body paint and hair dye. Details and Cooking.

Amchur, Amchur Powder - unripe fruit of the mango tree, available as slices and powder. Called for by many recipes from northern India, it is very sour with a slight sweetness and just a bit resinous. Use it for marinades where it has the same tenderizing effect as lemon juice (1 teaspoon amchur powder is equivalent to 3 tablespoons lemon juice) and in curries. Because it's light, dry and does not spoil easily as lemons and lemon juice do it's more portable in hot climates.
Anise -[Pimpinella anisum]
The fruits of this potent member of the carrot family are used to provide a "licorice" flavor to many drinks and candies, though it is unrelated to the root from which "true licorice" is obtained. In the U.S. anise is used mostly in cookies and other baked goods while the related but less "licoricy" fennel fruits are used more for cooking.
The bulbs and fronds sold as "Anise" or "Sweet Anise" in the groceries are actually Fennel. See also Star Anise for another unrelated spice with a similar flavor. Anise fades rapidly if ground so you should keep whole "seeds" (actually a dried fruit) and grind them as needed.
Annatto - [Achiote (sp)]
Primarily used to infuse oil with a red-gold color and subtle warm flavor, as well as giving an orange/yellow color to cheeses, butter and other food ingredients. Particularly used in Cuban, Filipino, Portuguese, Mexican, Puerto Rican, and Jamaican Cooking.
Asafoetida - [Hing (india), Ferula assa-foetida (Parsley family)]
Dried sap from roots of this parsley family herb native to Central Asia was used in Europe from the time Alexander until the 16th century. It was important in Roman cuisine as a substitute for Silphium which was very expensive. It is still much used in India, particularly as a substitute for onions and garlic by Indian Brahmins for whom those are forbidden. The flavor is not the same but it adds a similar sophistication. Asafoetida is used mainly with vegetable dishes but it can also add an interesting flavor to meat.
Food writers have struggled to describe the foul smell of the raw resin - struggled because food writers aren't familiar with SAE 90W hypoid gear oil which contains similar sulphur compounds. Fortunately the odor is subdued by cooking. This product is sold in two versions, pure resin (which may be in powdered form) and Hing powder, which has powdered resin cut with rice flour and other substances. I strongly recommend the pure resin.
Asafoetida resin must be fried in hot oil briefly before other ingredients are added to the pan. For pure resin powder this is just a couple of seconds but will be a little more for coarser resin. Hing powder is supposed to not need this step but I disagree.
Caraway, Black - Generally refers to Nigella - there is no Black Caraway.
Cardamom - Green - [White Cardamom, True Cardamom; Elaichi (India); Hel (Persia, Hebrew); Hayl (Arabic); Elettaria cardamomum]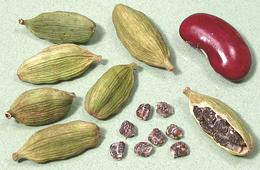 Green Cardamom is native to India and Malaysia. India produces nearly the entire world's commercial supply (and consumes most of it). The seeds are highly aromatic with a sharp brilliant flavor. White cardamom is green that has been bleached. This is the cardamom to use whenever black is not specifically called for by name or region. It is the cardamom commonly available in Europe and North America and used in sweets, coffee and tea in the Arabic regions, Persia and India. Details and Cooking.

Cardamom - Black - [Black Cardamom, Brown Cardamom; Kali Elaichi, Moti Elaichi (India); tháo quá (Vietnam); Amomum subulatum (India), Amonum costatum (China)]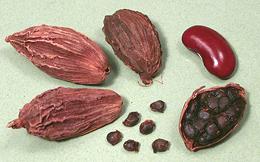 Black Cardamom is not interchangeable with green cardamom. While the green is sharp and brilliant the black is dark and smoky with high tones of camphor and mint. It is the cardamom used in China and Vietnam, and in India it is often included in Garam Masala mixes and certain curries, particularly in the northern regions. Details and Cooking.

Cassia Bark - []
An aromatic bark interchangeable with (and often confused with) Cinnamon See the cinnamon article for more details and how to tell them apart.
Charnushka (U.S. Armenian) - Nigella
Chili Peppers - [genus Capsicum, 30 or more species]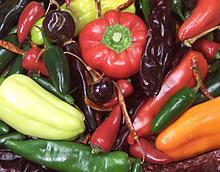 An important and prolific member of the Nightshade family (Solanaceae), chilis produce varieties of fruit that are used as spices, fresh or dried, and others that are used as vegetables. Originating in Central and South America, they were spread throughout the world by European traders and are now essential to many cuisines. They are so diverse and so important we have a separate (and rather extensive) Chili Page

Cinnamon - []

Cloves - [Laung (hindi); Nelke (German); Syzygium aromaticum]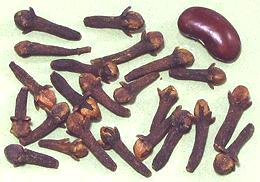 Cloves are flower buds of a myrtle family tree native to Indonesia. To maximize quality they must be harvested just before opening into flowers, and then immediately dried. Cloves have been in great demand in Europe since the Roman Empire and were very expensive considering they had to come all the way from Indonesia. They were not grown elsewhere until recently. Despite demand abroad, cloves have never been an important spice in Indonesia, where the major use is in cigarettes.

Coriander - []
Another member of the parsley family. What are called "coriander seeds" are actually the dried fruits. The fresh plant is called Celantro, but the leaves are almost never used dried. Indian coriander produces larger, lighter colored and softer fruits than European coriander.
Cumin [Jera (ind)]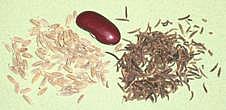 Cumin is a member of the parsley family. What are called "cumin seeds" are actually the dried fruit and contain the seeds.
White Cumin - the regular cumin, used in India to differentiate from Black Cumin.
Black Cumin [Kali Jera (ind)] - a cumin used for some particular spicings in northern India. The seeds are much smaller than white cumin and the flavor much more aromatic (and the cost much higher). Substituting with White Cumin is distinctly imperfect.
Cumin, Black (improper) - see Nigella

Curry Leaf
Leaves of the tree Chalcas koenigii, a member of the citrus family and essential to authenticity in the cuisines of southern and central India and Sri Lanka. There is no known substitute so if you don't have them you just have to leave them out. They have an aromatic and slightly camphorous taste and are generally used in small quantity, fried in oil with the cumin or mustard seeds before adding the onions or other main ingredients.
Curry leaves dry well but lose a great deal in drying. OK for some spice mixes if freshly dried but otherwise a poor substitute for fresh. If you don't have a ready source we recommend buying some fresh ones, stripping the leaves off the stems and freezing them in small bags. They turn dark, but they're going to turn dark fried in oil anyway.
Fennel - [Sweet cumin, Foeniculum vulgare (parsley family)]
Fennel is unusual in being used as a spice (dried fruits) as an herb (fronds) and as a vegetable (swollen stem bases). It is native to the Medeterranean but grows easily in any temperate climate. The yellow-beige fruits (left in photo) are now used as a dried spice through most of the world for flavoring fish and meat, soups, sweets, drinks and curries. The fruits are similar to Anise but notably sweeter and more licorice like. The variety used for spice is not the same variety used as a vegetable but they are of the same species. Lucknow Fennel, a variety grown in northern India, has much smaller seeds with an even sweeter more licorice flavor. This fennel is called for in many dishes originating in northern India and can be found in Indian groceries (at a much higher price than regular fennel).
Fenugreek [Methi, Trigonella foenum-graecum (Bean family)]
This bitter aromatic bean, tiny and angular compared to common beans, is used extensively in India, where it is generally roasted to bring out the flavors before grinding for spice mixes like garam masalla. It is also used in Greece, the Near East, Persia and Southeast Asia.
Fenugreek Leaves are also used as a slightly bitter fresh herb in the cooking of Persia, parts of India and the Near East.
Five Spice Powder
This mixture is used all over China and to a very lesser extent in Southeast Asia. It properly contains Sichuan Peppercorns, Star Anise, Cassia Bark (or Cinnamon), Cloves and Fennel all in equal quantity. Sometimes other spices are added and for a short time recently ginger and some other spices were substituted for the essential Sichuan Peppercorns for versions exported to the U.S. due to a USDA embargo, now conditionally lifted.
As with other spices, Five Spice is best mixed from the whole spices and ground in a spice grinder when needed. It is most used in batters for coating deep fried meats and in marinades for meats.
Kalonji (India) - Nigella
Khas Khas - see Poppy Seed, White
Mace - see Nutmeg.
Mahlab [(variously spelled), Mahlepi (Greece), St Lucie Cherry Prunus Mahaleb]
The oval kernel from the stones of a small black cherry tree that grows wild in the Mediteerranean region and Turkey, and now cultivated in Iran. Iran is the largest producer with Turkey second. It is used particularly in Greece, Turkey, Armenia, Iraq and Iran but also elsewhere in the Near East and Mid East. Purchase it as whole kernels and crush or grind as needed since it degrades quickly once ground. It is used to flavor baked goods, pastries and sometimes Nabulsi Cheese.
Mustard Seed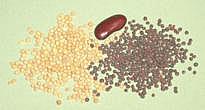 Yellow Mustard Seed is the familiar European variety most of which goes into the manufacture of the "prepared mustard" we buy in jars and squeeze bottles.

Black Mustard Seed is always called for in recipes from India and farther east. It's smaller than European yellow mustard seeds but the flavor is pretty similar. An interesting use is as a temperature gage, you put a few seeds in your pan with the oil and when they start to pop your oil is hot enough. If you don't have them, substitute yellow mustard seeds - slightly different but close enough.

Mustard seed ground to a powder has little flavor until it is mixed with water and let stand for about 10 minutes. An enzyme reaction produces the familiar mustard pungency. Mustard prepared this way loses its pungency quickly so is usually discarded at the end of the day.


Nigella - [Onion Seed (improper), Black Caraway (improper), Black Cumin (improper), Charnushka (U.S. Armenian), Kalonji (India)]
It looks very much like onion seeds, but is not at all related and has a very distinctive flavor. It is mixed into Armenian string cheese and on the outside of Nabulsi cheese as well as on some Jewish baked goods. Nigella is held to have strong medicinal properties for a number of illnesses.

Nutmeg & Mace - [Myristica fragrans]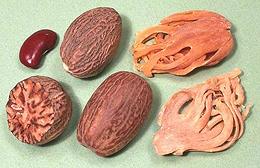 Less important than it was in Medieval times, nutmeg is still used in many European recipes, particularly in sauces and beverages, but also in baked goods and with vegetables. Mace is a wrapper around the nutmeg seed which is treated separately. Mace has a lighter and fruity flavor while nutmeg is sweeter and stronger, so they find application in different kinds of recipes (and sometimes together). The fruit itself is also used in the regions where nutmeg grows. Details and Cooking.

Panch phoron (Bengal) - a mix of 5 spices in equal part - nigella, fenugreek, cumin, black mustard seed and fennel. Panch phoron and mustard oil together provide the distinctive flavor of Bengali cooking. The spice mix is always fried in mustard oil before use to bring out the flavors and is generally used unground.
Pepper / Peppercorns - Black, White, Green, Red - [Piper nigrum]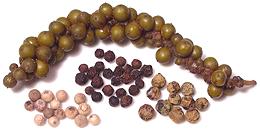 Pepper originated on the Malabar (south west) coast of India, but major plantations were later established in Indonesia for trade with the Dutch. It is now grown also in Brazil and several Southeast Asian countries. Pepper has never been popular in Indonesia despite being grown there, but has long been used in India and parts of Southeast Asia, particularly before chilis were brought from South America. In Europe it has been the most important spice since the Roman Empire and was extremely expensive until the 18th century due to trade monopolies.
In more recent times pepper has spread to just about every cuisine, particularly since the price has fallen so much and growing area has increased. Pepper use has increased in Southeast Asia due to it being grown there now and Thailand has taken a liking to fresh green peppercorns. The photo specimens are: brined Green Peppercorns (top), force dried Green Peppercorns (right), White Peppercorns (left) and Black Peppercorns (center). All these are from the same piper nigrum pepper vine, just picked at different stages of ripeness and processed differently. Details and Cooking.

Peppercorns, Pink - [Schinus terebinthifolius (Brazilian), also Schinus molle (California / Peruvian)]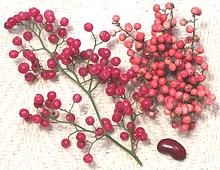 These "peppercorns" are from trees of the Cashew family (Anacardiaceae) and are not at all related to the familiar black, green, red and white peppercorns of Southeast Asia, nor to the Sichuan peppercorns of China and Nepal. They have long been used as a spice and medicinally in the Caribbean and some years back were a real rage with the fancy chef set. During the rage many publications shrilly warned that they were related to poison ivy and poison sumac, but even more so is the spice "sumac" heavily used in the Near East. In any case dried berries contain no significant amount of the suspected irritants. Today they are commonly found mixed with black, green and white peppercorns in "gourmet" pepper mixes where they serve a decorative purpose only. Details and Cooking.

Peppercorns, Sichuan (Szechuan) - [Flower Pepper, Prickly Ash (English); Teppal (India); Jiao (china) Zanthoxylum piperitum, Z. simulans and others (citrus family)]

Dried fruits of the Chinese prickly ash tree. These "peppercorns" are essential to the famous Sichuan cuisine of China and a similar fruit is important in Nepal. They are quite unique with a remarkably sharp, citrusy flavor and a numbing anesthetic effect on the tongue. Other countries have related species with flavors that vary more or less from the Chinese. Some of these are listed on the page Details and Cooking.

Peppercorns, Tasmanian - [Mountain Pepper; Tasmannia lanceolata | Dorrigo Pepper; Tasmannia stipitata]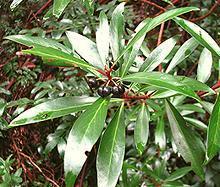 Native to Australia, these "peppercorns" look much like dried black peppercorns but have a pungency and numbing effect on the tongue similar to Sichuan peppercorns. Both dried berries and dried leaves carry the spiciness and both are used in cooking. Both also show antimicrobal activity and are high in antioxidants. Photo by Melburnian distributed under license Creative Commons Attribution 3.0 Unported..

Poppy Seeds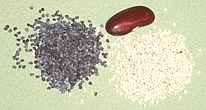 There are two kinds of poppy seeds sold on the spice market, Black and White. They are imperfectly interchangeable due to color, taste and other characteristics.
Black Poppy Seeds are commonly used in Europe and the U.S. sprinkled on baked goods. These come from the infamous opium poppy but contain no significant amount of the alkali which has to be gathered long before the seeds are mature enough to harvest. Poppy seed is also used as an oil seed but in the U.S. it's used for slow drying artist's oil paints rather than for cooking.
White Poppy Seeds [Khas Khas (India)] are always called for in Indian cooking. They are used roasted and ground primarily as a thickening agent in light colored sauces. They come from a line of poppies specifically bred for these mild light colored seeds.
Sambar Podi [sambar powder]
A spice mix used in the south of India, particularly in Tamilnadu on the east coast. It's a mix of roasted urad dal (tiny lentils), cumin, coriander, fenugreek and black pepper, optionally mustard seeds, chilis and asafetida. It's used along with curry leaves to flavor the thin lentil curries served with pancake like bread (dosai) in the region.
Silphion - [(Parsley Family)]
Silphion was grown in North Africa when it was the breadbasket of the Roman empire, but was rendered extinct by the desertification resulting from poor agricultural practices. While the leaves were sometimes used as an herb and stalks as a vegetable the main use was for resin obtained by cutting the roots or stalks. This resin was highly prized and very expensive, but the only similar product available today is Asafetida which was considered inferior when silphion was available.
Star Anise - [Bat Gok (china), badiyan (from persian but adopted by other languages), Illicium verum]
An essential for Chinese cooking this spice is also grown and used in Vietnam and Laos. The licorice flavored seed pods grow on a tree related to the Magnolia and native to China. The hard seeds which may be present in the pods can be discarded because they lack flavor. Star Anise is an essential ingredient of the Five Spice powder used all over China and extending into Southeast Asia.
Star Anise is almost always sold as whole or broken pods and should be ground just before use.
Turmeric


A relative of Ginger, turmeric is most familiar as a finely ground yellow powder, but fresh and whole dried roots are also available in Indian and Southeast Asian markets. The fresh root is preferred in SE Asia. Shown are fresh root, dried root, powder, and our ever present dried red kidney bean for scale.
The powdered form is most commonly used in India and is ground weekly from dried roots whenever possible. The U.S. spice trade considers Turmeric mostly for it's color so the dried powder is likely old with inferior flavor. That found in Indian groceries generally has better flavor and aroma because turnover and expectations are much higher.
White Turmeric (Zedoary) is also available as fresh root and is used particularly in Southeast Asia as an aromatic vegetable, and in India it is grated and added to various pickles. It has little color but a considerably sharper taste than yellow turmeric.
Health Considerations
Links