The edible part is the foot meat. I have found the forked ends of my crab picks (the end useless for crab) work well for removing this meat. Other stuff farther up the shell may or may not pull out with the foot meat but it is pulpy and not particularly tasty, particularly the light beige egg yolk mass of females.
A 15.8 ounce package of whole frozen snails yielded 1.6 ounces of cooked foot meat (10%). A 1 pound tray of frozen apple snail meat will yield 11 ounces thawed and drained (67%) and just under 8 ounces cooked (47%).
If using fresh snails, do see they are cooked thoroughly because they may harbor a parasite that can infect humans.
Cooking: Face it, Apple Snail meat is chewy. It's a bit chewy after 5 minutes of cooking - and about the same after 5 hours. You may want to use them mainly in recipes where they are chopped fairly fine - unless you like chewy.
Thaw your snails.
If snails are "in the shell", bring plenty of water to a boil and parboil until you can pull them out of the shells. Cool and clean, then treat same as frozen meat.
For frozen meat (thawed), make a fairly strong court bouillon with just vinegar and salt. Bring to a boil
Stir in the snail meats. Bring back to a boil for 4 to 5 minutes. Drain and refresh in cold water.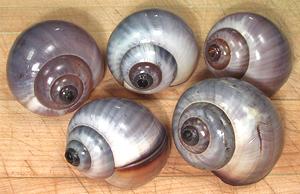 Apple snail shells are quite attractive if properly cleaned and prepared.
1. Cook your snails and remove the meat for whatever use you have in mind.
2. Return the shells to the pot and cover well with water. Bring to a boil and simmer for a long time. Occasionally tilt them pointy end down under the water to fill them.
3. Cool and drain. Shake the crud out by this means. Hold the shell pointy end down and fill with hot water. Turn pointy end up and shake up and down vigorously. Repeat until you're sure all the crud has been shaken out.
4. Return to the pot and cover with water. Add bleach to about 20% of the liquid. Turn the shells pointy end down under water to fill them.
5. Bring to a boil and simmer until they are a nice color.
6. Rub them with mineral oil to keep them bright and preserve the colors.